Anne Wünsche - Actress and OnlyFans Star
Table of content
Who is Anne Wünsche?
Career as an actress
Anne Wünsche and her family
The entrepreneur and influencer
Psychological problems
Starting the OnlyFans career
A lot will change in 2023!

Anne Wünsche - The "Berlin - Tag & Nacht" actress, influencer, and entrepreneur who never fails to surprise us! Her unique look and strong personality make her one of the most well-known personalities in the German entertainment industry. But behind her success is also a tumultuous story. In this article, you will gain a deep insight into the life of Anne Wünsche and learn about her career as an actress, her family and children, her rise as an entrepreneur and influencer, her controversies on OnlyFans, and her struggles with mental health issues and how she deals with them. Let's get started!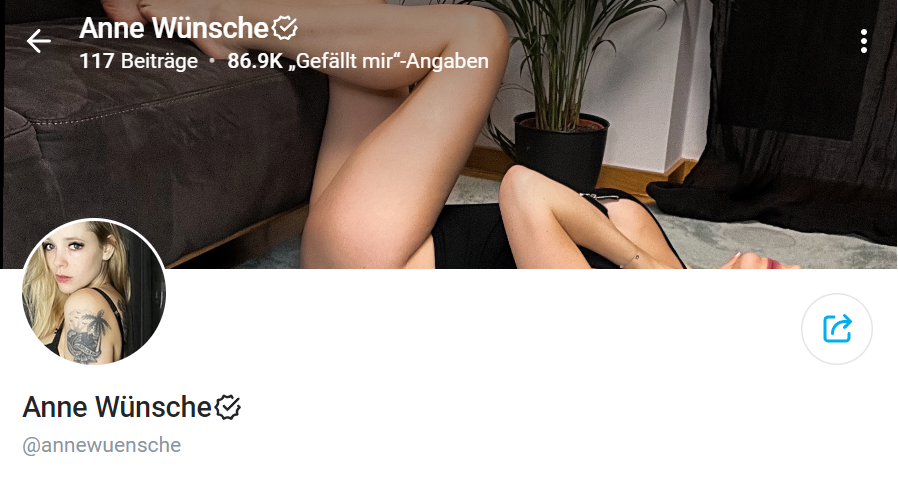 Who is Anne Wünsche?
She is young, talented, and well-known in the German entertainment industry! The beautiful actress was born on August 26, 1991, in Cottbus and started her career as an actress in the reality series "Berlin - Tag & Nacht" There, she played the role of "Hanna" and captivated the audience.
But that was just the beginning for Anne, since then she has had an amazing career. In addition to her work as an actress, she has also founded her own fashion label called "Annestyle" and is a successful influencer on YouTube and Instagram. But Anne's life has not always been easy, she has also gone through tough times and still struggles with mental health issues. Despite everything, she has managed to work her way up to become a successful entrepreneur and well-known personality in the entertainment industry.

Career as an actress
Anne Wünsche, the charming and talented actress, has made waves in the entertainment world. Her distinctive look and unmistakable personality have earned her a large following who are eager to learn more about her life.
In her role as "Hanna" in the reality series "Berlin - Tag & Nacht" Anne Wünsche laid the foundation for her career. With her authentic portrayal of a young woman living in Berlin and overcoming challenges, she has captivated the audience. Her unparalleled charisma and talent for acting help her deliver a lively and convincing performance in the series.
But that's not all! Anne Wünsche has also appeared in other TV formats, including the popular series "Gute Zeiten, schlechte Zeiten" There, she played a thief and once again demonstrated her talent for acting and her ability to slip into different roles. Her fans were thrilled with her performance and praised her for her versatility and commitment to the entertainment industry.
Anne Wünsche has also acted in several films, including the 2013 comedy "Schlussmacher." There, she once again proved her talent for acting and delighted the audience with her charm and passion. She has shown that she is not only a fascinating and talented actress in TV formats but also on the big screen.
Anne Wünsche and her family
Anne Wünsche is not only successful in showbiz but also a loving mother of three children. The pretty blonde has two daughters from a previous relationship and a son with her partner Karim El Kammouchi since 2022. The family is known for supporting each other and always being there for one another. Anne likes to share insights into her family life on social media and shows that she is a strong and confident mother who is willing to do anything for her children.
On her YouTube channel, Anne Wünsche often talks about her life as a mother and how she tries to balance work and family. She shares her experiences and gives valuable tips on how to achieve a good work-life balance as a mother. She emphasizes how important it is for her to spend time with her children and support them in their development.
Anne Wünsche also likes to be seen in public with her children. She often goes for walks with them or attends events and shows with them. Fans love Anne and her children and are always thrilled with the sweet family photos she shares on social media.
The entrepreneur and influencer
Anne Wünsche has been able to celebrate great successes not only as an actress, but also as a businesswoman and influencer. The former "BTN" actress has shown that she is not only beautiful to look at, but also highly intelligent and ambitious. With a lot of ambition and perseverance, she has made a name for herself in the business world and taken her career to a new level.
One of her most successful projects is undoubtedly her own brand "Annestyle". Under this label, Anne Wünsche offers her fans stylish fashion and accessories that she has designed herself. The collections are absolutely on trend and inspire her customers again and again. With her sense of fashion and aesthetic, she has built a loyal fan base in a short time and proved that she is also a real force to be reckoned with as a designer.
But that's not all that Anne Wünsche has to offer. As an influencer, she also knows how to inspire her fans. With her own YouTube channel and a large presence on Instagram, she has built a strong community that follows her every move. On these platforms, she not only shares private insights into her life, but also gives tips on beauty, fashion, and lifestyle topics. Her fans appreciate her honest and open manner and are constantly inspired by her.
Anne Wünsche is no longer just an actress, but a successful entrepreneur and influencer who has managed to make a name for herself in various industries. With her extraordinary talent and tireless work ethic, she has secured a place in the German entertainment and business world.
Psychological problems
However, not everything in life has always gone smoothly for the blonde. In the past, Anne has openly talked about her psychological problems.
Anne Wünsche is not only a successful entrepreneur, but above all a person and therefore one of us, which is important to her to share with her followers. Like many others, Anne has suffered from psychological problems in the past, which she openly talks about on her social media accounts. In her school days, she had problems and was often laughed at and not taken seriously, which greatly affected her self-confidence. These experiences left deep wounds and influenced her life long afterwards.
When Anne Wünsche moved to Berlin and appeared on "Berlin - Tag und Nacht", things slowly started to improve. She was able to develop herself better and her personality. But despite her success, she was not spared from psychological problems. She had times when she struggled with depression and anxiety. In an interview, she revealed that she often felt alone and overwhelmed.
To cope with her psychological problems, the beauty has developed various strategies. Her family and friends play an important role in supporting and giving her stability. She has also learned to take breaks and reflect on herself to better understand her thoughts and feelings. In addition, she sets clear goals for herself and works hard to achieve them, which gives her a sense of control and self-efficacy.
Despite the challenges that come with psychological problems, Anne Wünsche has learned to deal with them and master her life. She is proud of herself and wants to encourage others to believe in themselves and never give up.
Starting the OnlyFans career
Our popular starlet also likes to stir up controversy! After Anne Wünsche had likely taken nude photos of herself at a young age, many of which were leaked on the internet, the former "Berlin - Tag & Nacht" actress opened an account on OnlyFans, a platform known for its explicit content. Although Anne claimed to only share "harmless" content, she now regularly posts nude photos and soft porn videos. Some accuse her of exploiting her fans, while others describe her decision as courageous and self-determined.

Anne's decision to open an OnlyFans account could also have an impact on her family and children. Some critics fear that her children could be stigmatized as a result, while others argue that as a mother, Anne has a responsibility to be a role model for her children.
However, it is important to emphasize that Anne Wünsche is aware of the content she shares on OnlyFans and that she does not make her decisions lightly. As a successful entrepreneur and influencer, she has already proven that she is capable of successfully combining career and family.
A lot will change in 2023!
Anne has announced that a lot will change for her this year. The thoughts and concerns of her fans are also on her mind. The cheeky influencer usually likes to share as much as possible with her fans. Revealing pictures and family snapshots have both been part of her content so far. But now she has decided to change her social media concept to protect her children.
In an emotional post, the Berlin resident announced that she will keep her children completely out of the public eye and off her social media platforms. Yes, you read that right! Not a single snapshot or private insight of her children will be shown anymore. Anne wants to keep her family out of the public eye from now on. Even revealing content will only be found on her OnlyFans account in the future.
Anne's decision has sparked mixed reactions among her fans. While many of her followers welcome the move and consider it reasonable, some are skeptical whether it is not too late for that. After all, her children have been seen by her side for years and there are already countless pictures and information about them on the internet. It remains to be seen whether Anne will regret her decision or whether she has found a new path for herself and her family.