Katja Krasavice: Nude on Onlyfans & Juror at DSDS
Table of contents
Katja's past - Her life before the fame
Beginning of her career
Gathering first TV experiences
Transformation from a YouTuber to a musician
A book about her own life
Amazing donations at a Ein Herz für Kinder
Katja on DSDS and the dispute with Dieter Bohlen
How does Katja earn her money
From Cinderella to a star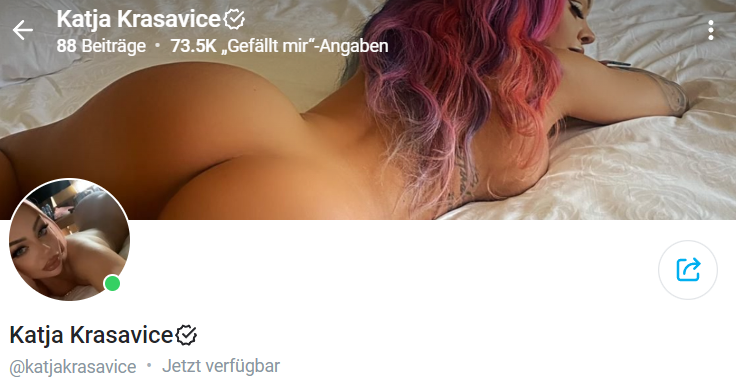 Katja Krasavice is known to many through her YouTube channel or her music, but at the latest, everyone has heard of the polarizing singer due to her participation as a jury member on the casting show "Deutschland sucht den Superstar". But who is actually behind the glamour?

Katja's past - Her life before the fame
Krasavice is Katja's stage name and in Czech it means beauty or beautiful woman. The artist was born in 1996 with the name Katrin Vogelová in a small town in the Czech Republic, but she was just a baby when her mother moved with her and her siblings to Germany. Katja grew up in a blended family and has several half-siblings, but she only grew up with 4 brothers, whom she refers to as her real siblings.
Katja never had an easy moment in her life. She lost her first brother to cancer when she was only 5 years old, and her second brother died from suicide in prison when Katja was 11 years old. Her stepfather was an alcoholic and abusive towards her mother, and he sexually assaulted some of Katja's friends, which she testified about in court. As a child, she had to endure so much pain that she didn't know how to keep on living. But her strength became apparent early on because she kept fighting for herself and her mother.
Katja and her mother have experienced and survived a lot, and thanks to Katja's success, they no longer have to live in poverty and can lead a self-determined life.
Beginning of her career
The now 27-year-old began her career on the video platform YouTube in 2014, when she was just 18 years old. After completing her training as a photographer, she also wanted to appear in front of the camera.
From the beginning, her content was characterized by a sexual direction. Katja loves to show off what she has and talk about it. In her videos, she addressed topics such as "My first time was a threesome", "Types of kissing", "I answer your perverse questions" and "Dirty talk challenge with a porn star".
After a short time, she became known as THE sex YouTuber in Germany. She spoke openly then, as well as today, about her cosmetic surgeries and sexual preferences and techniques, and wants to be transparent with her fans.
In 2017, her first single titled "Doggy" was released. Just one year later, her second song "Dicke Lippen" was released, and in the same year, her third song "Sextape" came out. The young YouTuber realized that she enjoyed making music and that her songs were well-received by her community.
Gathering first TV experiences
In 2018, the then-YouTube rapper took the plunge into German reality TV and was a part of the sixth season of the show "Promi Big Brother". There, she was as honest, genuine, and vulnerable as hardly any other participant and reached sixth place, laying the foundation for her first TV experiences.
Transformation from a YouTuber to a musician
In 2019, everything changed suddenly for the former video producer. The label Warner Music signed her. From that moment on, her career really took off. Katja ended her YouTube career, made all videos on her channel private, and renamed her channel Katja Krasavice Music. Since then, Katja's channel exclusively features music and music-related content.
In 2020, her debut album Boss Bitch was released, which marked her real start in the music business. Boss Bitch reached number one on the German charts in record time.
In January 2021, she released her next album, Eure Mami, which again climbed to the top of the German album charts. One of the singles from the album is the song "Highway," which was created in collaboration with singer Elif. "Highway" also quickly and unchallenged reached the top of the German singles charts. The most viewed video on her channel is a song called sex tape!
Already in the spring of 2021, Katja's career ladder continued to skyrocket, as US rappers Saweetie and Doja Cat had planned a project for which they also asked Katja to participate. For their song "Best Friend," they asked different artists to be part of it, and so Katja also released a remix of the song "Best Friend," which once again reached number one within a week.
In 2022, her current third album, "Pussy Power," was released, which, who would have guessed it, landed once again on number one.


A book about her own life
In 2020, alongside releasing a full album, Katja also wrote and published her first book about her own life. "The Bitch Bible" provides a biographical glimpse into the private life of the artist, where she honestly and movingly shares about herself, her childhood, her family, and her career, and how her life shaped her into the person she is today. The book covers difficult topics such as severe bullying, hard knocks in life, having a brother who teaches her how to break into cars and remove radios, a stepfather who tells her that a woman is only valuable if she is sexually available to men, and Katja being repeatedly torn down and broken but always getting back up to get to where she is today.
Katja manages to create an elegant balance between sensuality, entertainment, and seriousness in her descriptions. With her honest and open approach, she is relatable and understandable to the reader.
Like her music, her first book was a resounding success and within a month, it climbed to the second spot on the Spiegel bestseller list in the non-fiction category.
Amazing donations at a Ein Herz für Kinder
In 2021 and 2022, she was part of the charity show "Ein Herz für Kinder" (A Heart for Children) and brought tears to the eyes of many when she donated 50,000 euros in 2021. She mentioned that she knows from her own experience what it's like to have a difficult childhood and grow up in a poor family. She no longer faces these problems today and wants to help those who need it the most. In 2022, she even donated a whopping 100,000 euros together with her company.
Katja on DSDS and the dispute with Dieter Bohlen
Currently, Katja Krasavice is making headlines as a judge on the 20th season of the casting show "Deutschland sucht den Superstar" (DSDS).
In this show, she stayed true to herself. After her fellow judge, Dieter Bohlen, personally attacked and insulted a contestant, Katja stood up for her. Shortly after, she released a short diss track about Dieter Bohlen, which led to a lot of media attention and a public feud between the judges. Bohlen is known for making disrespectful comments on TV, but he probably didn't expect Katja, who doesn't back down in front of him and even speaks out against him publicly.
So far, Katja has held back according to her statement. All she has said so far are her responses to Dieter Bohlen's statements. However, she still has a lot of insider information that she is withholding for now. So far, it seems that Bohlen will have to give up because Katja has leaked private WhatsApp messages that prove Dieter Bohlen is lying. The public seems to be firmly on Katja's side, but it remains to be seen how this will affect the rest of the show.
One thing is certain, Katja does not let anyone silence her and with her transparent and honest approach, she quickly gains the trust of her fans and viewers.
How does Katja earn her money
Katja is very transparent with her followers when it comes to money and is happy to answer questions from her fans about her income. One thing is clear, Katja no longer has to worry about money.
Initially, Katja earned good money from YouTube revenue, but today she no longer earns anything from the platform. Nevertheless, money seems to be flowing in from all sides for Katja today. She earns money through her music, receiving income from streaming her songs, especially through pre-orderable boxes that Katja puts together to go with her albums and sells in limited quantities.
The singer's wealth also grows through sales of her book. Moreover, she recently launched her own drink, which generates enormous revenue. Like other colleagues in the rap world, Katja now has her own product. The Pussy Power interpreter brings out her own iced tea. The refreshing drink is called Sugarmami and is already available in four different varieties. In addition to these sources of income, Katja also earns money through influencer activities on Instagram and through donations in streams where she spends time with her followers. Additionally, she has an extremely successful Onlyfans channel where she posts nude content, soft porn videos and even wrote her own song in which she sings that she was able to buy a Benz through her Onlyfans.
Furthermore, she also earns money from concerts and performances for which she is booked and, of course, paid well. Currently, there are also her earnings from the show "Deutschland sucht den Superstar". All in all, it can be said that Katja seems to be trying to build up her sources of income as broadly as possible to have various pillars, which is also working. There are various estimates of the singer's wealth, but everyone agrees on one thing: Katja is a multimillionaire and constantly on her way up.
From Cinderella to a star
Katja is determined to achieve more. She comes from nothing, has only experienced resistance and opposition in her life, has always been put down, kept small, and ridiculed by everyone. Everything she is today, she has achieved entirely on her own, solely through her willpower and strength to always stay true to herself. Katja has written her own Cinderella story, but she didn't need a prince to save her and make her a princess because she has achieved that on her own.
It seems that the dirty hands of the Cinderella who always had to sweep up the shards have transformed, and everything she touches today turns to gold.