Millie Bobby Brown the next superstar
Table of Contents:

Her breakthrough as Eleven in Stranger Things
The Childhood of Millie Bobby Brown
The rise of a young talented actress
One of the most influential teenagers in the world
The personal life of the young actress

Her breakthrough as Eleven in Stranger Things
We all know her from the great science fiction mystery series Stranger Things, which was a huge hype all over the world and scooped countless prizes, but who is the actress who uses her telekinetic powers to protect herself and her friends from the dangers of another world?
The person is Millie Bobby Brown, who plays the character Eleven, affectionately known to her friends as Elfi, on the show. Eleven has telekinetic and telepathic powers that allows her to control things with her mere mind, which is why she was held captive by scientists for experiments.
The Childhood of Millie Bobby Brown
The vita of the actress is not quite as gloomy as the person she plays. Millie Bobby Brown was born in 2004 in Marbella, a Mediterranean coastal town in Spain. At the age of four she moved with her family to Great Britain and then to Florida, USA because of her father's job. Her father is a British real estate agent, which is why Millie has also the British citizenship.
In the stats, Millie took part in various workshops for acting at a young age and landed a few castings. At the age of 9, Millie was able to make her debut in front of the camera. In the fantasy series "Once Upon a Time in Wonderland" she was able to prove her acting skills as a young Alice in two episodes and was rewarded with her first leading role just a year later. In the series "Intruders" she played the little girl Madison, who came back to life and whose mind was alien. Although the ratings were low and as a result the series was canceled after only eight episodes, this role revealed her talent for mysterious traits.
The rise of a young talented actress
However, it took some time before she made her breakthrough in the Stranger Things series. After the first flop, there were a few more guest appearances in American series, which, however, also did not lead to success. As a result of that the family got into financial difficulties and was forced to move back to Great Britain.
A lucky twist, because Millie received her star-studded opportunity, an invitation to audition for the Netflix series Stranger Things. She was hired for the role of Elfi, also because she already had experience in playing a similar character. With the success of the series, she became a movie star, too. Millie Bobby Brown was part of two Godzilla films, among others, and plays an important supporting role there. She also played Enola Holmes, Sherlock Holmes' sister, in the movie of the same name. All previous cinema productions with Millie have been successful so far.
In particular, the choice of film roles allows for sequels, so we're sure to see more films with Millie in a leading or supporting role in the future. Incidentally, the Stranger Things series continued for three more seasons and has become a classic in the mystery genre.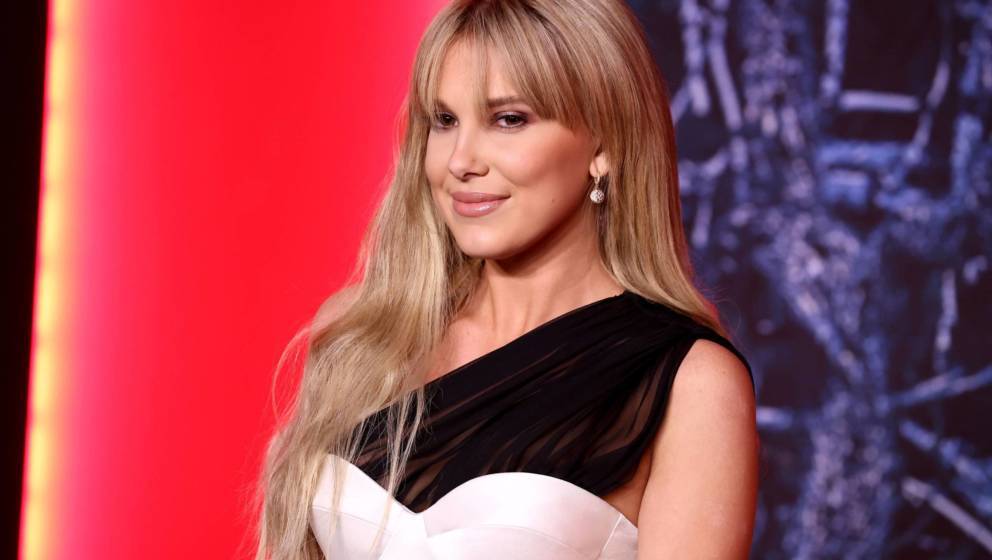 One of the most influential teenagers in the world
Because of the acting development, Millie Bobby Brown is now one of the absolute young stars in Hollywood. That is why she was included in the Time 100 list as one of the youngest most influential person and a year earlier in the list of the 30 most influential teenagers. However, attention should not only be paid to her acting performance. The young actress is already very committed to children, despite her young age.
In particular, her appearance as a moderator at the United Nations for the UNICEF anniversary gala, as well as her appointment as a UNICEF goodwill ambassador also played an important role. Millie uses her acting skills and her star status to advocate for children.
This is how the young kid from Marbella has developed into an absolute superstar. For the role of Elfi in Stranger Things she has already won the Emmy, which is considered one of the most important television awards in Hollywood, twice. And Millie was also able to win other prizes, such as the MTV Movie Award or the Teen Choice Award, for her performance.
A second career as a model
In addition to acting, Bobby Brown was also able to draw attention to herself visually and has been hired as a model. She has already been able to appear for some star designer. She can also be seen in various music videos.
The personal life of the young actress

Meanwhile, Millie Bobby's heart has also been conquered. While we were all secretly hoping that Millie would fall in love with one of the Stranger Things co-stars, she and Finn Wolfhard hit back at the love rumors and said they're just very good friends not only in from of the camera. They would have been an absolute Hollywood dream couple. Instead, Millie is dating the son of Jon Bon Jovi, which she confirms with plenty of pictures on social media. In addition to acting, working as a model and being involved with Unicef, where she is very committed to children, Millie is also an entrepreneur. She now has a range of her own skin care products, which she sells online. One can clearly see that Millie Bobby Brown is growing into the role of an absolute Hollywood star. The acting talent paired with her commitment will bring us a lot of joy, both on the cinema screen and at home, when we watching one of the streaming portals.
What will the future hold for Millie Bobby Brown?
It will be exciting when Millie breaks out of her usual roles, in which she primarily plays science fiction or fantasy roles and takes on her first role in a serious film. So far, she has embodied these kind of roles very well. The future roles that are currently being filmed with Millie can also be found at this genre. Although she has already appeared in crime and drama series such as Navy CIS or Modern Family as a supporting actress in a few episodes, acting in the first major role, for example as a leading actress in a drama, becomes a challenge in which Millie could become an absolute world star. Time will tell, but with her acting skills she will certainly make it.